Court Map
Please click on your county of interest: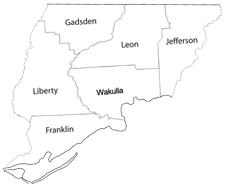 Know Your Court
On January 1, 2020, changes in Florida state law and the Florida Rules of Procedure will go into effect, changing where a variety of court actions are heard.
» County court jurisdictional thresholds increase to $30,000 on January 1, 2020, and to $50,000 on January 1, 2023.
» Small claims cases on January 1, 2020, will include cases up to $8,000
» Filers will be required to include a civil cover sheet specifying the dollar amount in dispute in cases exceeding $8,000 in value.
» The new law maintains current rules that limits the provision of subsidized court mediation services to county court cases with an amount in controversy up to $15,000.
» State law provides that on January 1, 2020, appeals of county court orders or judgments with an amount in controversy greater than $15,000 will be heard by the district courts of appeal until January 1, 2023, when the provision repeals.
Read more »
Florida Courts Help seeks to help Floridians who represent themselves in family law cases.
The Florida Courts Help app works on Apple and Android phones and tablets. The app offers in one place information for people seeking a divorce, adoption, orders of protection, name change, and other family law issues.
Get the app»
You will be able to access local self-help centers, free and low-cost legal aid, and family law forms for use in a number of family-related situations.
Self-Help Information »
Follow @2ndcircuitfl