Circuit Wide Adoption Day!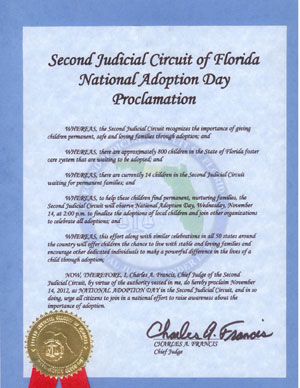 Chief Judge Charles Francis proclaimed November 14, 2012 as National Adoption Day in the 2nd Judicial Circuit. Circuit Judge Karen Gievers finalized adoption for 13 children, providing them with their forever family. The theme "There's No Place Like Home" was implemented throughout the celebration complete with Wizard of Oz characters, the yellow brick road, and refreshments.
For more information please review My Florida Families.
Follow @2ndcircuitfl