Judge Tiffany Baker-Carper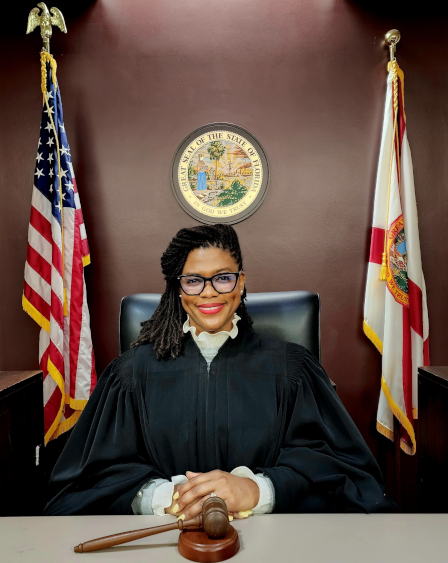 Judicial Assistant Ryan Randolph
Procedures
Policies, Procedures and Preferences for cases assigned to Judge Tiffany Baker-Carper can be found at the "Manuals, Forms & Procedures" section of this website.
Biography
On November 3, 2020, Tiffany Baker-Carper was elected circuit judge, thereby becoming the youngest female and the youngest African American to be elected judge in the Second Judicial Circuit. She is currently assigned to the Juvenile Delinquency and Family Law Division and has recently been appointed to serve as a Circuit Champion for the Florida Courts Opioid Initiative by Chief Judge Jonathan Sjostrom.
Before her role as a circuit judge, she worked in private practice as a criminal defense attorney and family law practitioner. Before launching her own practice, she worked for one of the area's best personal injury law firms, litigating, negotiating, and settling personal injury claims. Judge T.B. Carper received her Bachelor of Science degree in Business Administration from the University of Miami in 2007 and her Juris Doctorate from Howard University School of Law in 2012.
Judge T.B. Carper currently resides in Tallahassee as a happy wife to Leonard W. Carper, Jr., and proud mother to two beautiful girls, Phoenix Ray and Lenox Luna. She is a member of the Alpha Kappa Alpha Sorority, Inc., Chi Upsilon Chapter, a subscribing life member of the NAACP, a member of the Tallahassee Barristers Association, the Florida Association for Women Lawyers, the Petunia Garden Circle, and other civic organizations.
Follow @2ndcircuitfl