Judge Martin Fitzpatrick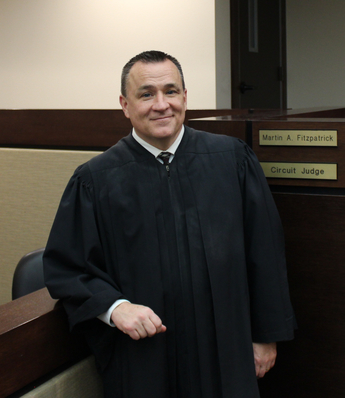 Judicial Assistant Lisa Gaston
Procedures
Policies, Procedures and Preferences for cases assigned to Judge Martin A. Fitzpatrick can be found at the "Manuals, Forms & Procedures" section of this website.
Biography
Judge Martin A. Fitzpatrick is a Circuit Judge of the Second Judicial Circuit (consisting of Franklin, Liberty, Gadsden, Wakulla, Leon and Jefferson Counties). He currently serves in the Juvenile and Family Law Divisions of that Court.
Judge Fitzpatrick was appointed to the bench in April 2013.
Prior to that time (from February 2001-April 2013) he practiced with Broad and Cassel, a statewide firm with an office in Tallahassee. From 1997-2001, he practiced with Sternstein, Rainer & Clarke, a small Tallahassee firm specializing in healthcare related issues. From 1996-1997, he practiced with Smith, Hulsey & Busey, a large general practice firm in Jacksonville. During law school he also gained valuable clerking experience with firms in Tallahassee and Orlando, representing business clients in commercial disputes, and both Plaintiffs and Defendants in personal injury cases.
Judge Fitzpatrick earned his B.A. in Political Science from Stetson University and his J.D. from Florida State University.
While in private practice, Judge Fitzpatrick was a Partner in the Tallahassee office of Broad and Cassel, where he was a member of the Firm's Appellate and Commercial Litigation Practice Groups. He has extensive commercial litigation experience, representing clients in the federal, state, administrative and arbitration arenas on matters ranging from business, securities or employment disputes in which hundreds of thousands of dollars are at issue, to complex constitutional class actions in which hundreds of millions of dollars are at stake. The diversity of his experience made him well suited to assist in any litigation, irrespective of the issues presented or the amount at stake.
Judge Fitzpatrick gained valuable experience while serving as an extern to Justice Major B. Harding, of the Florida Supreme Court, during law school, and as a law clerk to the Honorable Harvey E. Schlesinger, United States District Judge, Middle District of Florida, Jacksonville Division, immediately following law school.
In 2009, Judge Fitzpatrick was designated as "Florida Legal Elite" in Florida Trend magazine by his peers, an honor awarded to less than 2 percent of the Florida Bar.
Judge Fitzpatrick is active in the local bar and in the Stafford Inn of Court, as well as his church.
Follow @2ndcircuitfl